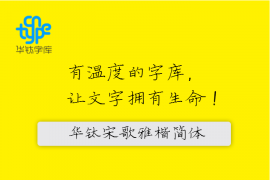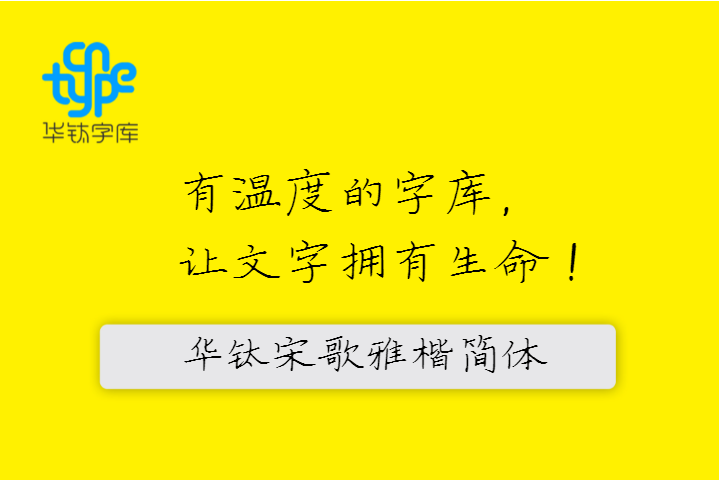 Collect
Collected
(

0 Favorites

)
Font description
为保护字库作品原创版权,在商用本字体前需得到授权许可,任何未经授权而使用的行为均为侵权行为,需全额支付版权使用费1万元/年,并按侵权责任给予赔付,且承担一切法律后果。
License type
| | Purpose | Description of use | Media | Application embedding | Web page embedding | Books |
| --- | --- | --- | --- | --- | --- | --- |
| | Logo design | Trademark design words (including: logo, trademark, registered trademark, etc. of the enterprise or product) | | | | |
| | Slogan design | Words used in Slogan Design (including slogans, slogans, advertising slogans, etc. of enterprises or products) | | | | |
| | VI design | VI design words (including standard words, guide manuals, enterprise manuals, etc., excluding trademark design and Slogan Design) | | | | |
| | Brochure design | Words used in brochure design (including: brochures, building books, instructions, etc.) | | | | |
| | Package Design | Words for physical packaging design (including: food, daily necessities, office stationery, hardware and electrical equipment, computer digital, CD surface, etc.) | | | | |
| | poster design | Poster design words (including: elabo, background board, poster spray painting, promotional single page, etc.) | | | | |
| | office design | Words for office document design (including PPT, work report, business proposal, planning, etc., excluding electronic publication embedding) | | | | |
| | Application design | Application design words (including UI, illustrations, advertisements, etc., excluding application embedding) | | | | |
| | Website design | Words for website, H5 application or applet design (including UI, illustrations, advertisements, etc., excluding web page embedding) | | | | |
| | Online store design | Design words for third-party e-commerce online stores (including: Taobao, tmall, jd.com, pinduoduo, Amazon, eBay, Shopify, etc.) | | | | |
| | self-media design | We media design words (including: Weibo, wechat, official account, headline, Tiktok, Kwai, Facebook, twitter, etc.) | | | | |
| | 影视作品设计 | 影视作品设计用字(包括:电影、电视剧、专题节目、滚动式影视节目等,不包括:影视广告) | | | | |
| | Outdoor advertising design | Outdoor advertising design words (including: light box advertising, body advertising, building advertising, column advertising, platform advertising, etc.) | | | | |
| | Print advertising design | Words used in print advertising design (including newspaper advertisements, magazine advertisements, etc.) | | | | |
| | Film and television advertising design | Words used in the design of film and television advertisements (including: TV advertisements, film advertisements, short video advertisements, promotional films, etc., excluding: film and television works) | | | | |
| | Online advertising design | Third party network platform design words (including Baidu, Sogou, 360, Toutiao, Taobao, Google, Bing, etc.) | | | | |
| | Application embedding | Application font embedded words (including IOS, Android, harmonyos, windows, MacOS, etc.) | | | | |
| | Website embedding | 网站字体嵌入用字(包括:网页、H5应用、小程序等,不包括:网络广告嵌入) | | | | |
| | 出版物设计 | 出版物设计用字(包括:图书、配套手册、音像制品、内部刊物等,不包括:电子出版物嵌入) | | | | |
Authorization process
Online whole process self-service authorization
(Online authorization)
Select the font according to the needs, select the appropriate authorization scheme, and fill in the licensee information
Use online payment such as Alipay, Wechat and PayPal, or pay to our through offline channels such as corporate transfer and international wire transfer
Download the font file and view or download the authorization certificate (authorization letter / authorization agreement / authorization contract).
Genuine commitment
Each work is registered and certified by the national copyright authority or the copyright owner promises in writing that it is copyrighted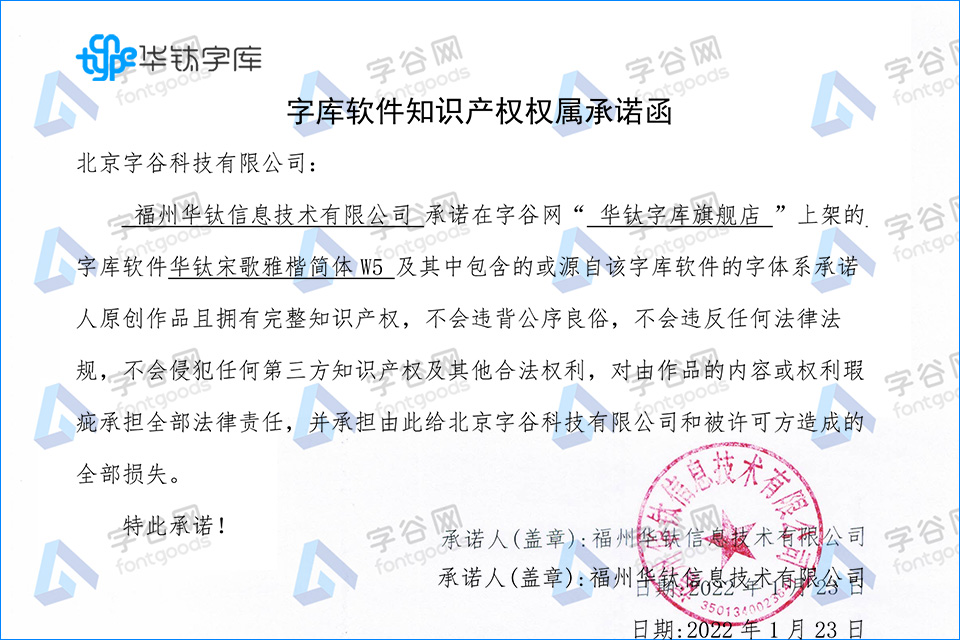 Official authorization
The copyright owner officially authorizes us to issue the authorization certificate for you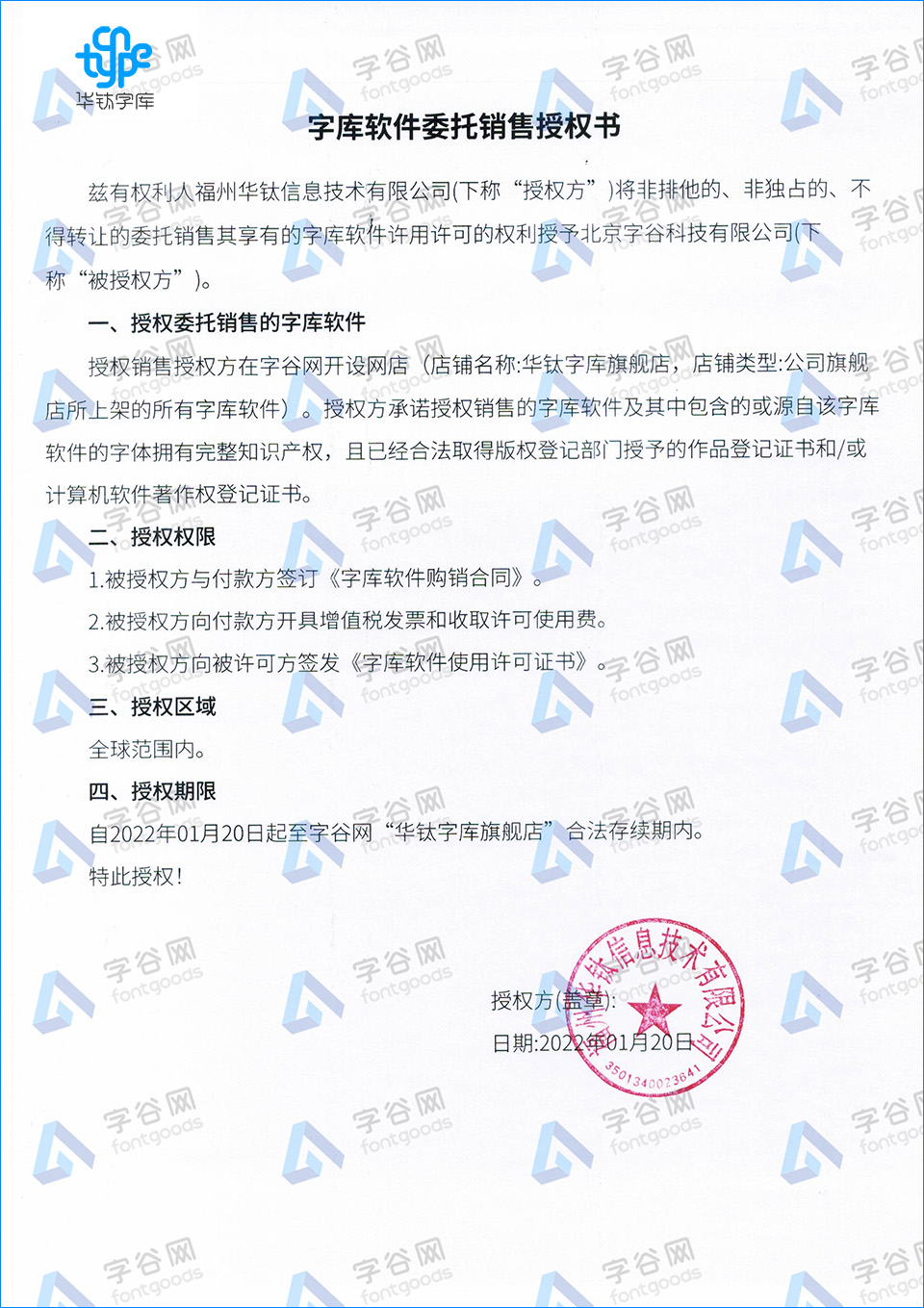 Proof
The official certificate of authorization can be viewed or downloaded in "personal Center - my order" (delivery within 2 working days after payment)
Formal invoice
Each order that generates actual payment can apply for issuing VAT invoice online.
S
a
m
p
l
e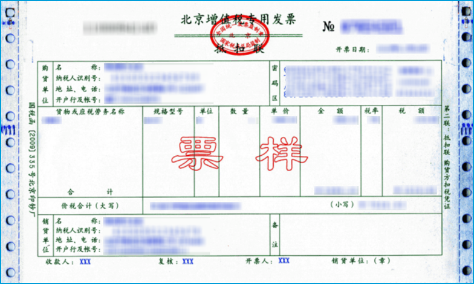 Invoicing process
1.Click "apply for invoicing" in the order list
2.Select or add your invoice header
3.Submit application
Invoice type
1. Electronic VAT common invoice tax rate:6%
2. 电子增值税专用发票,税率:6%
Invoice content: information technology service fee
注:电子发票发送到您的电子邮箱,电子票据与纸质票据具有同等法律效力。
Question
1.Advertising agency for the client design work by who to buy font license
Usually the "licensee" of font software license should be the end-user of the design solution, so the owner of the design solution must obtain the relevant authorization of the font used, and some authorization methods (such as desktop license) specify the number of terminals to be used, so all computers using the font for design or modification of the solution need to obtain authorization.
2.How to help customers buy licenses
You can select or add "Licensee" information when you submit your order, and fill in your customer information in the "Licensee" form.
3.How to install fonts
Windows system: Copy the font file directly to C:/Windows/Fonts, or right-click the font file and select "Install"; Mac system: Double-click the font file - click Install, or open "Applications "-"Font Book", drag the fonts into it.
4.How to find the font in PS and other software after installation
Due to the operating system or software version, if you can't find the installed font in the software, we suggest you restart the system first, the font may be shown in the list as Chinese or English name, please look for it carefully, as long as the font is installed successfully, the font must exist in the font list.
5.支付过程出现风险提示怎么办
使用微信、支付宝等第三方支付工具进行大额支付时,有可能触发风险提示,请根据以下方法进行操作,您也可以通过企业对公转账的方式支付大额订单;